Precisely what's needed to end the price collapse. But last time, it wasn't long before Wall Street liquidity surged back into shale, starting the cycle all over again.
US crude oil production in May plunged by 1.99 million barrels per day, from 12 million b/d in April to 10 million b/d, the largest monthly drop since at least 1980, and the sixth monthly drop in a row, according to the EIA.
This comes after the collapse in demand for transportation fuels – especially gasoline and jet fuel – that started in March and exacerbated the oil glut and a downward spiral of the already depressed prices for crude oil. Amid a torrent of bankruptcy filings by oil-and-gas companies, drillers cut drilling activity and production. This trend restarted last year, after having subsided somewhat following phase 1 of the Great American Oil Bust in 2015-2016, but took on record proportions during the Pandemic. From the peak in November 2019 of 12.86 million b/d, production has now plunged by 22.2%: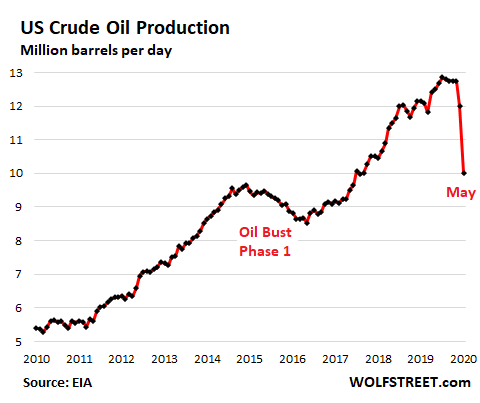 In the chart above, note how production doubled between mid-2012 and November 2019, despite the drop in production in 2015-2016.
The chart below shows the the price of benchmark crude oil grade West Texas Intermediate. Note how the price recovery from late 2016 ended in the fall of 2018 and then reversed, as production surged. The price decline bottomed out on April 20, when for a brief period the price of WTI plunged below zero, a bizarre moment in the history of crude oil: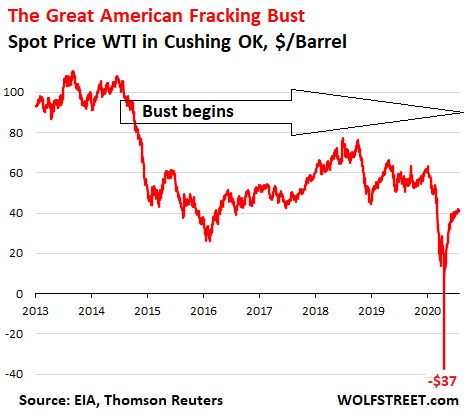 Texas, the state with by far the largest production in the US and the epicenter of the oil-and-gas bankruptcy filings, was also the state with the largest production cuts, in terms of million b/d. Peak production occurred in March 2020 at 5.44 million b/d. By May production had plunged 19% to 4.39 million b/d.
…click on the above link to read the rest of the article…