President Trump is mocking Warren Buffett for having sold his airline stocks, Druckenmiller crying on TV about having been humbled by the market while every Robinhood retail trader piling into ever more into calls is laughing all the way to the bank. The professionals gobsmacked at the complete upside down events in markets compared to any other time in recorded history given the economic backdrop while retail is giddy jumping into any ticker symbol that's moving valuations be damned, hey let's even chase bankrupt companies, why not?
---
This market is so bullish even bankrupt companies are rallying.

---
Anything goes in the market.
I myself, have been surprised by the recent vertical strength that keeps running from gap to gap to gap.
Sometimes you just have to laugh:
---
$NYSE chart art.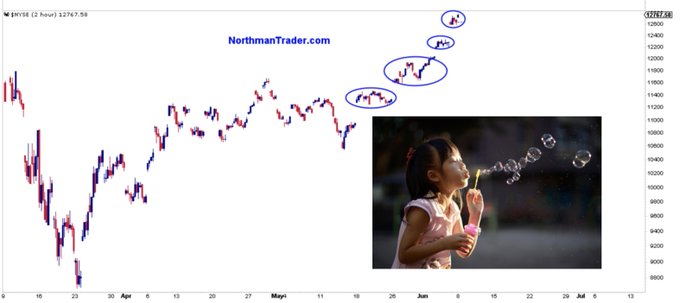 ---
On the day of the lows I talked about an awe-inspiring rally coming. Consider me sufficiently awe inspired.
And now the same folks that told people to buy stocks in January and February right before the crash are back out and telling people to buy stocks again except this time at much higher multiples and valuations.
My variant take here which may well turn out to be very wrong: The Fed is setting markets up for another crash. Why? Because they've set in motion a stock market mania we have not seen since the 2000 tech bubble. But this time while we're still in a recession.
And it is a mania and it's important to recognize this. And like all manias it'll end badly. The amount of "ever's" keep building up.
We have the highest market valuations ever (market cap to GDP) 151% on Friday's close with old GDP data hence the real figure is higher. This chart from the beginning of June:
…click on the above link to read the rest of the article…