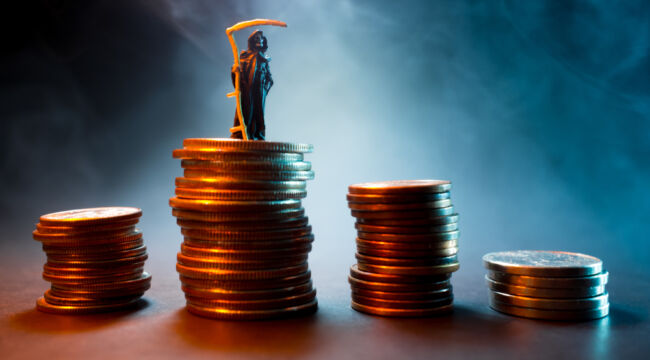 Kind heaven, no! A fresh economic scourge is upon the land. Announces CNN:
"New Threat to the Economy: Americans Are Saving Like It's the 1980s."
Is a higher evil possible? Thus we are informed:
Americans are slashing their spending, hoarding cash and shrinking their credit card debt as they fear their jobs could disappear during the coronavirus pandemic…

Although caution is a logical response to that uncertainty, hunkering down also poses a risk to the recovery in an economy dominated by consumer spending. A so-called V-shaped recovery can't happen if consumers are sitting on the sidelines…

The savings rate in the United States climbed from 8% in February to 13.1% in March. That was the highest savings rate since November 1981.

The article further reminds us that consumer spending constitutes some 70% of the United States economy.
And so the old bugaboo rises from the grave yet again — the "paradox of thrift."
The Evils of Saving
The individual saver may be the model of prudence, of frugality, of forbearance… of thrift itself.
But if the entire nation tied down its money?
A savage cycle would feed and feed upon itself… until the economy is devoured to the final crumbs.
Consumption would dwindle to near-nonexistence. GDP would collapse in a heap. Waves of bankruptcies would wash through.
All this because the selfishness of savers. They refuse to untie their purse strings… and spend for the greater good.
This paradox of thrift is perhaps the mother myth of economists in the Keynesian line.
Yet no paradox exists whatsoever.
Today we maintain — again — that saving is an unvarnished blessing, at all times, under all circumstances.
Let us first plunge a stake through the squirming heart of another myth:
The myth that consumer consumption constitutes 70% of the United States economy…
…click on the above link to read the rest of the article…