About 200 million Americans in the eastern two-thirds of the country will be trapped in a monsterous heat dome that will send tempatures over 100°F into the weekend, and with humidity factored in, the real feel could be a scorcher: 110°F, reported AccuWeather.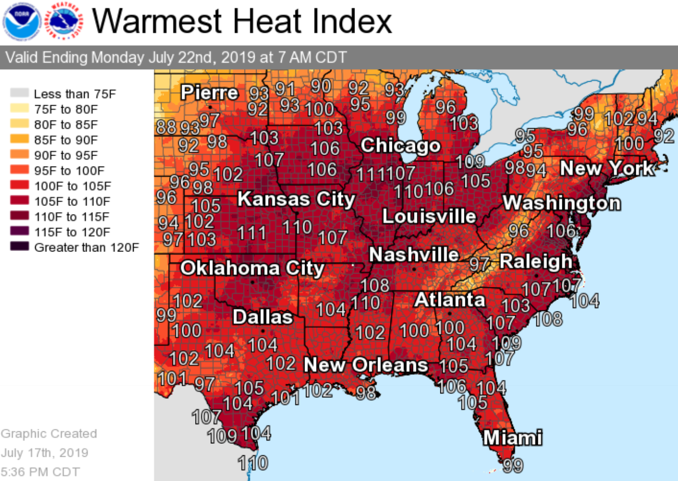 "Significant heat is expected across the eastern and central United States into the weekend as a ridge of high pressure anchors itself in place. This will promote very hot temperatures in the upper 90s and low 100s along with oppressive humidity. This combination will make it feel like 110-115°F into the weekend for millions. This will also impact energy and agriculture, leading to increased cooling load in the Northeast and Midwest as well as heat stress on Midwestern corn and soybeans. The heat will break into early next week," reported meteorologist and owner of Empire Weather LLC., Ed Vallee.
From the Rockies through Central Plains and Midwest, to the Southeast and up across the Northeast, very hot and humid conditions will start on Thursday and last through the weekend.
A scorching #heat wave will consume about two-thirds of the country mid to late week into the weekend. About a total of 20 to 30 record highs are possible this #Friday and #Saturday, from the Front Range of the south-central Rockies to the East Coast. #heatwave

…click on the above link to read the rest of the article…