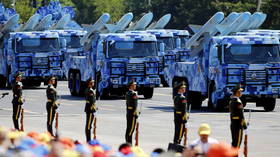 The military parade marking the 70th anniversary of the end of World War Two, Beijing, China, September 3, 2015 © Reuters / Damir Sagolj
A Republican senator has accused China of preparing for World War III. Like most of Washington's statements concerning China, the lawmaker has completely ignored the US' role in creating such a scenario in the first place.
Just last week, Republican Senator James Inhofe of Oklahoma made the allegation that China's military was preparing for World War III.
"It's like you're preparing for World War III," he said during a Senate hearing focused on the so-called challenges presented by Russia and China. "You're talking to our allies over there and you wonder whose side they're going to be on."
According to Inhofe, the US has sat back and watched as China has built its military presence in the South China Sea, turning artificial islands into potential launch pads for its military.
The idea that the US has sat back and watched anything, ever, in the history of the world, is somewhat laughable. Even under the Obama administration, the president had an explicit containment strategy which was supposed to enclose and encircle China from all angles. The so-called Trans-Pacific Partnership Agreement (TPP) was also designed for this purpose (yet for some reason Donald Trump, who is overtly anti-Chinese, thought the agreement was a bad idea).
Inhofe also said he was "concerned" that "our message" was "not getting across."
China getting the "message" loud and clear
I don't mean to be base, but perhaps the problem in the China-US relationship is that the message is getting across – loud and clear. The US has pushed the expansion of NATO up to and around Russia's borders. It has invaded and bombed Iraq, Syria (miraculously occupying one-third of Syrian territory, including its most oil-rich region), Libya, Yemen, Afghanistan, Pakistan, Somalia, and even the Philippines.
…click on the above link to read the rest of the article…