Home » Posts tagged 'fighter jets'
Tag Archives:
fighter jets
The Indonesian Air Force has deployed four General Dynamics F-16 Fighting Falcons to the South China Sea on Tuesday in a stand-off with China over its exclusive economic zone, reported Reuters.
The stand-off began last month when Beijing sent a coast guard vessel and commercial fishing boats to the disputed waters off the coast of Indonesia's northern Natuna islands.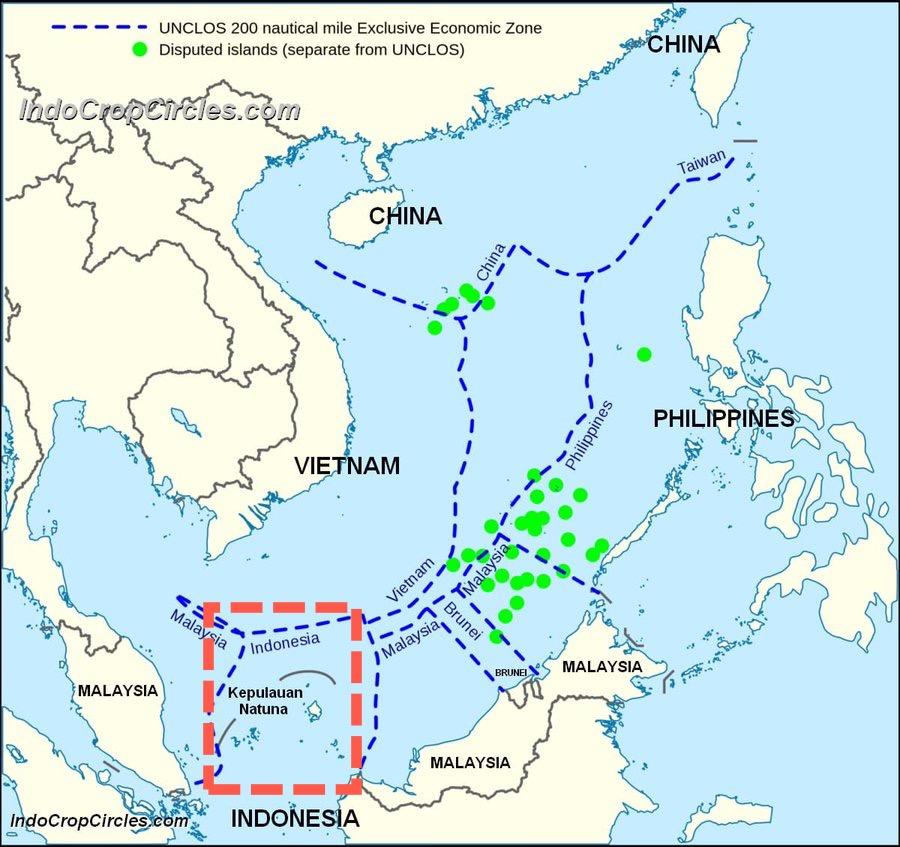 Fajar Adriyanto, the air force spokesman, said four F-16 fighter jets have been conducting flight missions over the islands as a deterrent against China.
"They're doing standard patrols to protect our sovereign area. It just so happened that they're patrolling Natuna," Adriyanto said. "We don't have the order to start a war with China."
Indonesian President Joko Widodo said Monday that increased Chinese vessels in the disputed waters is a direct violation of international law.
Widodo said there's no negotiation with China when it comes "to our sovereignty."
---
Indonesian president Joko Widodo told reporters: "There is no negotiation when it comes to our sovereignty."
Sends 4 more warships to join 6 already in a standoff with China over the Natuna islands, with China significantly under powered.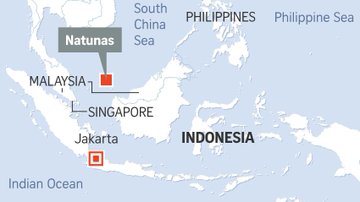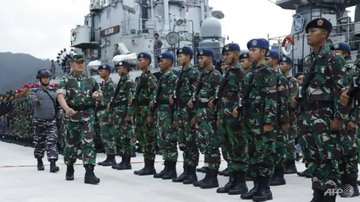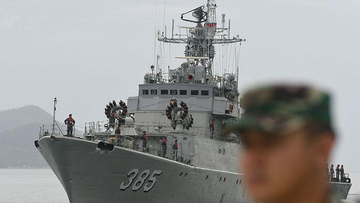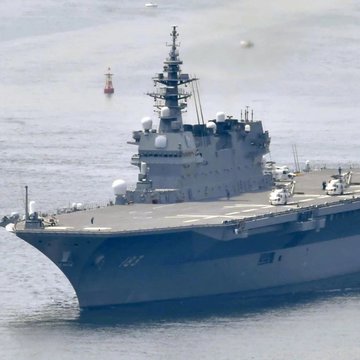 ---
In the last week, the Indonesian Navy has ramped up patrols in the same region that is known for vast natural resources, reported Channel News Asia.
China's foreign ministry spokesman Geng Shuang said Tuesday Beijing had "opened diplomatic channels" with Indonesia since the stand-off began, and said "both countries shoulder responsibility for maintaining regional peace and stability."
Reuters notes that ship tracker data shows at least two Chinese ships, Zhongguohaijing and Haijing 3511, were on the edge of Indonesia's exclusive economic zone on Tuesday. Both ships were located on China's "nine-dash line."
…click on the above link to read the rest of the article…
Tehran has deployed Grumman F-14 Tomcat fighter jets to its borders hours after the U.S. killed Iranian General Qasem Soleimani in an airstrike at Baghdad international airport, according to Sputnik News.
NBC News Tehran Bureau Chief Ali Arouzi tweeted that "Iranian f14 fighters jets maneuvering on the western skies and on alert and patrol." 
---
Iranian f14 fighters jets manoeuvring on the western skies and on alert and patrol. State tv
---
Al-Mayadeen news tweeted: "Iran: Revolutionary Guard Agency of Iran: Armed forces in the army and Revolutionary Guard are awaiting orders from the highest command."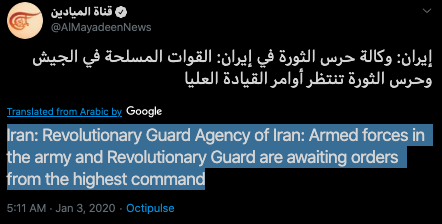 In other related news, Iranian Supreme Leader Ali Khamenei warned in a statement that the "criminals" responsible for the death of a top Iranian general will face "severe revenge," and that retaliation could be a regional war.
And defense analyst Babak Taghvaee tweeted that the Islamic Revolutionary Guard Corps (IRGC) "has put all of its ballistic missile bases on high-alert. #IRGC affiliated news media of #Iran's Islamic Regime claim that they are ready to launch missiles at several airbases which host #USAF airplanes in #UAE, #Qatar, #SaudiArabia & #Jordan!"
…click on the above link to read the rest of the article…
With the ink still damp on voter slips, newly crowned elected Canadian Prime Minister Justin Trudeau wasted no time in fulfilling the first of his liberal "hope" and "change" promises. As AFP reports, hours after defeating Stephen Harper, Trudeau has told US President Obama that he will withdraw Canadian fighter jets from Syria and Iraq, though giving no timeline. So far, the US response is a mutedly diplomatic but tinged with guilt, "We have stood shoulder to shoulder with Canadian armed forces… in Iraq and Afghanistan," from the US State Department.
"About an hour ago I spoke with President Obama," Trudeau told a press conference.

While Canada remains "a strong member of the coalition against ISIL," Trudeau said he made clear to the US leader "the commitments I have made around ending the combat mission."

Canada last year deployed CF-18 fighter jets to the region until March 2016, as well as about 70 special forces troops to train Kurds in northern Iraq.

During the campaign, Trudeau pledged to bring home the fighter jets and end its combat mission. But he vowed to keep military trainers in place.

His new Liberal government will be "moving forward with our campaign commitments in a responsible fashion," Trudeau said.

"We want to ensure that the transition is done in an orderly fashion."
Earlier on Tuesday, as Sputnink News reports, the US State Department addressed questions as to whether or not it was concerned that Canada's new government may not support US foreign policy regarding IS presence in Afghanistan.
"These are all decisions the Canadian people have to make and Canadian legislators have to make… and their Prime Minister [has to make]," department spokesperson John Kirby told reporters.

"We have stood shoulder to shoulder with Canadian armed forces…in Iraq and Afghanistan,"he added.
*  *  *
While this move seems like a hope-y and change-y step forward, the lack of timeline leaves plenty of room for the neocons to knock on Trudea's door and shower gifts on an economy floundering on the verge of "Emerging Market" status (as HSBC analysts warned).