Kate Mendenhall is the Director of the Organic Farmers Association (OFA), an organization sponsored by the Rodale Institute to build and support an organic farmer movement and national policy platform in the United States. Mendenhall has an extensive background in advocacy and is well-acquainted with the needs of organic farmers and runs her own farm.
"We as organic farmers need a strong voice in DC advocating our positions on organic issues—asking organic farmers what they really need and want and working with existing organic organizations to make it a reality at the federal level," says Mendenhall. "Together we'll build a stronger organic farmer movement!"
The OFA strives to provide a strong and unified national voice for domestic certified organic producers. They are developing and advocating policies, strengthening and supporting farms and farm organizations, and supporting collaboration and leadership among organic organizations. This is done with the help of The Rodale Institute, an independent research institute for organic farming that focuses on compost, soil health, weed and pest management, livestock operations, organic certification, wastewater treatment, and climate change.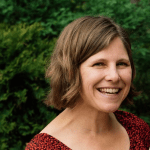 Mendenhall has worked with the Pesticide Action Network and CUESA in San Francisco, and was the Executive Director of the Northeast Organic Farmers Association of New York (NOFA-NY). She now lives in Okoboji, Iowa where she started her own organic mixed livestock farm. In 2016, Mendenhall helped launch OFA to advocate for what organic farmers need and want.
Food Tank had the opportunity to talk with Kate Mendenhall about the concerns of organic farmers.
Food Tank (FT): You yourself are a farmer. How difficult is it to start an organic farm?
…click on the above link to read the rest of the article…