The US Dollar Index has lost 10% from its March highs and many press comments have started to speculate about the likely collapse of the US Dollar as world reserve currency due to this weakness.
These wild speculations need to be debunked.
The US Dollar year-to-date (August 2020) has strengthened relative to 96 out of 146 currencies in the Bloomberg universe. In fact, the U.S. Fed Trade-Weighted Broad Dollar Index has strengthened by 2.3% in the same period, according to data compiled by Bloomberg.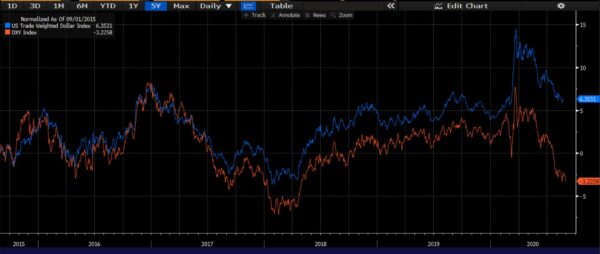 The speculation about countries abandoning the U.S. Dollar as reserve currency is easily denied. The Bank Of International Settlements reports in its June 2020 report that global US-dollar denominated debt is at a decade-high. In fact, US-dollar denominated debt issuances year-to-date from emerging markets have reached a new record.
China's dollar-denominated debt has risen as well in 2020. Since 2015, it has increased 35% while foreign exchange reserves fell 10%.
The US Dollar Index (DXY) shows that the United States currency has only really weakened relative to the yen and the euro, and this is based on optimistic expectations of European and Japanese economic recovery. The Federal Reserve's dovish announcements may be seen as a cause of the dollar decline, but the evidence shows that the European Central Bank (BOJ) and the Bank Of Japan (BOJ) conduct much more aggressive policies than the U.S. while economic recovery stalls. Recent purchasing manager index (PMI) declines have shown that hopes of a rapid recovery in Europe and Japan are widely exaggerated, and the Daily Activity Index published by Bloomberg confirms it. Furthermore, the balance sheet of the ECB is at the end of August more than 54% of the eurozone GDP and the BOJ´s is 123% versus the Federal Reserve's 33%.
…click on the above link to read the rest of the article…