Home » Posts tagged 'manipulation of facts'
Tag Archives:
manipulation of facts
Just when you were running short on things to fear, a group of US "doomsday" experts said on Thursday that information warfare is amplifying major worldwide threats as the infamous Doomsday Clock remained at two minutes to midnight, reports AFP.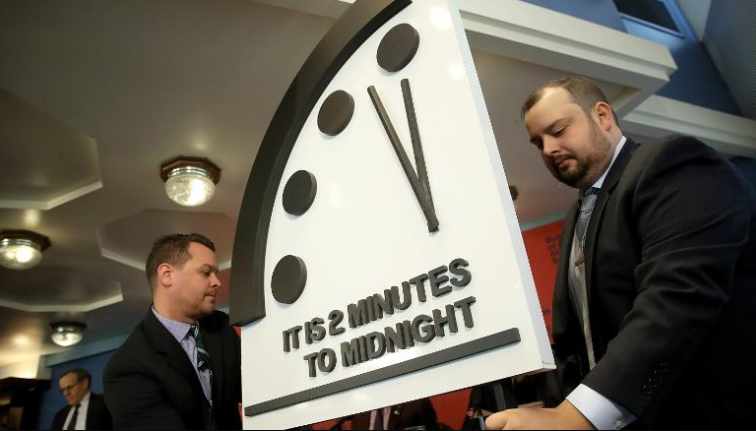 Where does this lurking threat lie according to said experts? "The manipulation of facts, fake news and information overload — along with global warming and flirting with nuclear war — are all factors that have brought humans as close to destroying the planet as ever, said the non-profit Bulletin of the Atomic Scientists." 
"Humanity now faces two simultaneous existential threats, either of which would be cause for extreme concern and immediate attention," said the scientists. "These major threats — nuclear weapons and climate change — were exacerbated this past year by the increased use of information warfare to undermine democracy around the world, amplifying risk from these and other threats and putting the future of civilization in extraordinary danger."
The clock did not budge from last year, but that "should not be taken as a sign of stability," said Rachel Bronson, president and CEO of the group of scholars and international experts in security, nuclear, environmental and science fields.
"It is a state as worrisome as the most dangerous times of the Cold War," said Bronson at a press conference in the US capital, describing the current climate as "The New Abnormal."
"The velocity of information has increased by orders of magnitude, allowing information warfare and fake news to flourish," she said.
"It generates rage and polarization across the globe at a time when we need calm and unity to solve the globe's greatest problems."
This "New Abnormal" is "a state that features an unpredictable and shifting landscape of simmering disputes that multiply the chances for major conflict to erupt," she added.
…click on the above link to read the rest of the article…