At the COP24 conference in Poland, countries are aiming to finalise the implementation plan for the 2015 Paris Agreement. The task has extra gravity in the wake of the recent IPCC report declaring that we have just 12 years to take the action needed to limit global warming to that infamous 1.5ᵒC target.
Although the conference itself is open to selected state representatives only, many see the week as an opportunity to influence and define the climate action agenda for the coming year, with protests planned outside the conference halls.
A crucial role of environmental activists is to shift the public discourse around climate change and to put pressure on state representatives to act boldly. COP24 offers a rare platform on which to drive a step change in the position of governments on climate change.
However, many environmental movements in Europe are not offering the critical analysis and radical narratives needed to achieve a halt to climate change.
Growing pains
By now most people agree that greenhouse gas emissions (including CO₂) are the proximate driver of climate change, and that climate change is not only a future problem, but is already causing significant environmental and social problems across the world. Further, the trend in global CO₂ emissions still appears to be increasing, driven largely by consumption in advanced and emerging economies.
Economic growth measures the increase in the amount of goods and services produced by an economy over time, and it has historically been tightly coupled to CO₂ emissions. Decoupling these two factors is not impossible, and indeed many leading academics argue that the power of human ingenuity will solve the climate crisis. However, this is certainly unlikely in the timescales needed to tackle climate change in a just and equitable way.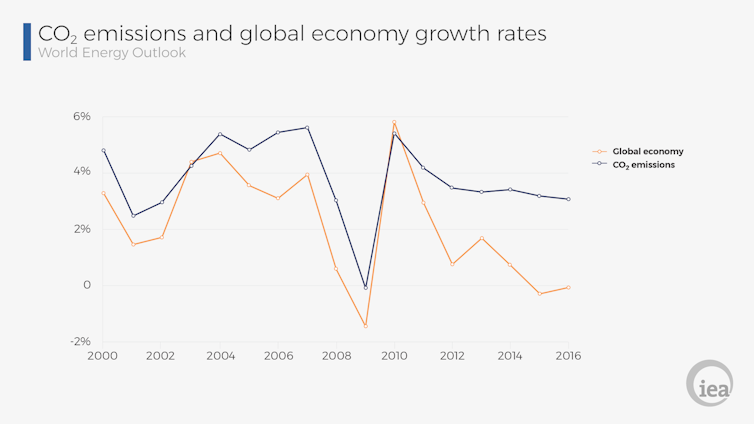 …click on the above link to read the rest of the article…