It's not pretty.
In 2018, "each month has brought weaker than normal sales, rising inventory, and continued downward pressure on prices" in Vancouver, British Columbia, writes Steve Saretsky, a Vancouver Realtor and publisher of real-estate blog, Vancity Condo Guide. The market faces another headwind: "With the Bank of Canada determined to reach a neutral rate of interest of between 2.5-3.5%, borrowing power continues to erode."
The single-family price spike unwinds.
The hardest hit segment are single-family houses ("detached houses"). Sales volume in the city of Vancouver has dropped to 27-year lows for most months of the year. In October, sales plunged 32% year-over-year to 146 houses, the third worst October on record. The plunge in sales was first triggered by the imposition of a tax in August 2016 on nonresident foreign buyers – mostly investors living in China. This chart from The Saretsky Report shows sales volume in every October going back to 1991 (click to enlarge):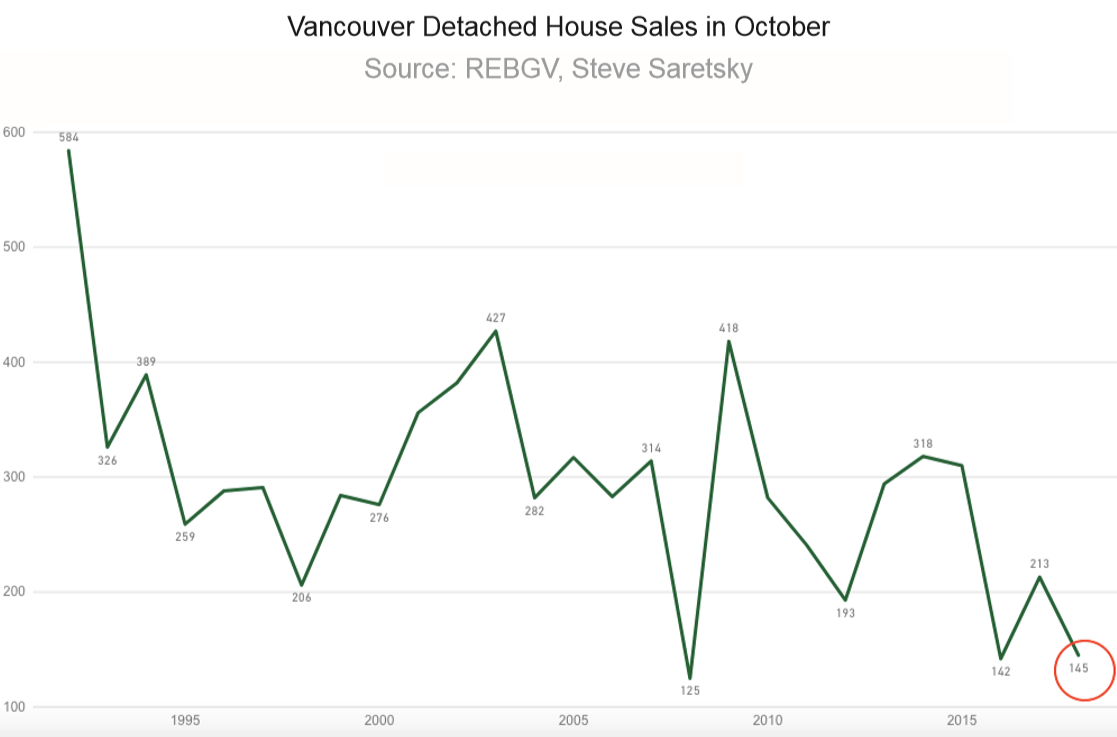 Inventory for sale of all types of homes combined – single-family, townhouse, and condo – in the city of Vancouver surged 24% year-over-year, "pushing prices lower across all property segments," he writes. Within that group, townhouse inventory jumped 34% and condo inventory soared 74%.
But inventory of single-family houses edged down by 4%, to 1,556 listings, "primarily a result of sellers taking their house off the market and trying to wait out current conditions," Saretsky writes. Given the decline in sales, months' supply surged 35% to 10.7 months. "This has paved the way for buyers to negotiate steep discounts":
We have now been in a weak detached housing market for over two years and as a result, price declines are becoming more noticeable and more significant. There is strong evidence from previous housing booms that volumes tend to lead prices by about two years, and for the most part that has been the case here in Vancouver.
…click on the above link to read the rest of the article…