Bigger issues than propping up the stock market beckon.
Today, the Shanghai Composite Index dropped another 2.9% to 2,486.42. In the bigger picture, that's quite an accomplishment:
Lowest since November 27, 2014, nearly four years ago
Down 30% from its recent peak on January 24, 2018, (3,559.47)
Down 52% from its last bubble peak on June 12, 2015 (5,166)
Down 59% from its all-time bubble peak on October 16, 2007 (6,092)
And back where it had first been on December 27, 2006, nearly 12 years ago.
The chart of the Shanghai Stock Exchange Composite Index (SSE) shows the 2015-bubble and its implosion, followed by a rise from the January-2016 low, which had been endlessly touted in the US as the next big buying opportunity to lure US investors into the China miracle. Investors who swallowed this hype got crushed again: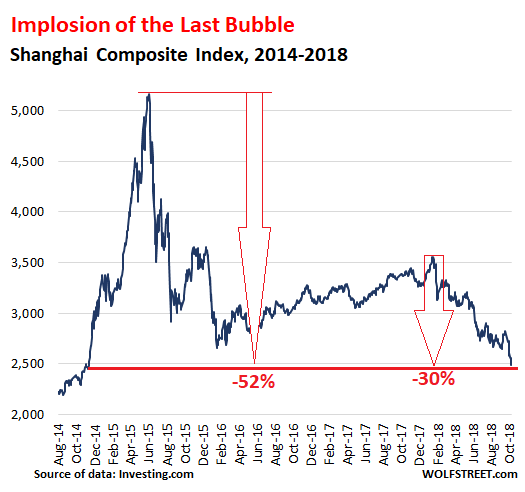 Over the longer view, the implosion is even more spectacular. Today's close puts the SSE back where it had first been nearly 12 years ago, on December 27, 2007. This dynamic has created a double-bubble and a double-implosion, with every recovery rally in between getting finally wiped out. The index is now down 59% from its all-time high in October 2007, the super-hype era in the run-up to the Beijing Olympics.
It is not often that a stock market of one of the largest economies in the world is whipped into two frenetically majestic bubbles that implode back to levels first seen 12 years earlier – despite inflation in the currency in which these stocks are denominated.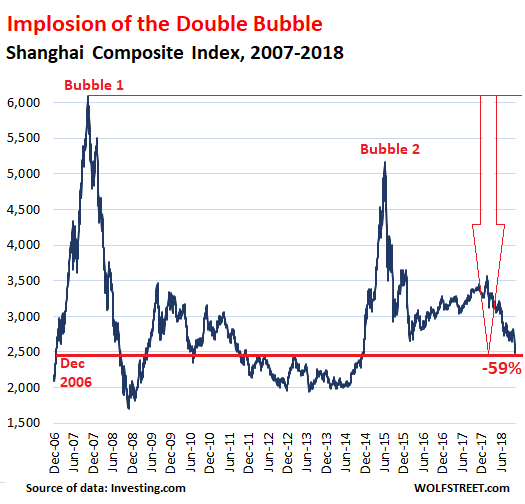 During the 2015 implosion, there had been big efforts by Chinese authorities to prevent the market from collapsing further, ranging from arresting wrong-headed market participants to forcing large brokerages and funds to buy the shares.
…click on the above link to read the rest of the article…