Dean Fantazzini has provided his latest estimates of Texas oil and natural gas output.
His analysis is based on RRC data only. Each RRC data set from Jan 2014 to Sept 2017 for crude and from April 2014 to Sept 2017 for condensate and natural gas are used in the "all data" estimate, the most recent 49 months of data are collected for each individual data set. After March 2016 there was a shift in the data for crude and condensate so for the C+C estimate, I include an estimate which uses all data from April 2016 to the most recent data point ("Corrected 18 month vintage"). Dean prefers to present an "all vintage data" estimate and an estimate using only the most recent 3 months "correction factors". For Sept 2017 the all vintage data estimate is 3174 kb/d, the last 3 month vintage estimate is 2957 kb/d, and the last 18 month vintage estimate is 3039 kb/d with falls of 68, 96, and 80 kb/d respectively from the previous month.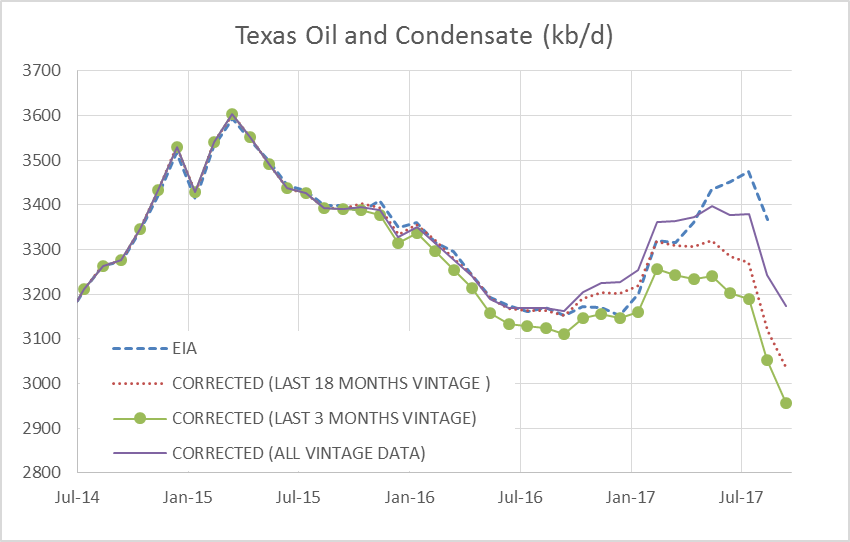 A chart I have not presented recently shows initial data reported for the past 26 months (July 2015 to Sept 2017). The change in the data around July 2016 is pretty clear. Notice how the lines start to become very closely spaced at about 6 to 8 months from most recent estimate, especially for the Sept 2016 to Feb 2017 period. This is an indication that the RRC data is improving.
The Chart below is something new. It shows only the most recent data point from each of the data sets since March 2014 and compares with the data from drilling info which can be found at the EIA website. Notice that the RRC initial data from the RRC website's online query does not always move in sync with the drilling info data due to fluctuations in the amount of pending lease data from month to month and other factors affecting the speed that data is reported and processed.
…click on the above link to read the rest of the article…