Central banks seem leery about the Chinese yuan.
What will finally pull the rug out from under the dollar's hegemony? The euro? The Chinese yuan? Cryptocurrencies? The Greek drachma? Whatever it will be, and however fervently the death-of-the-dollar folks might wish for it, it's not happening at the moment, according to the most recent data.
The IMF just released its report, Currency Composition of Official Foreign Exchange Reserves (COFER) for the fourth quarter 2017. It should be said that the IMF is very economical with what it discloses. The COFER data for the individual countries – the total level of their reserve currencies and what currencies they hold – is "strictly confidential." But we get to look at the global allocation by currency.
In Q4 2017, total global foreign exchange reserves, including all currencies, rose 6.6% year-over-year, or by $709 billion, to $11.42 trillion, right in the range of the past three years (from $10.7 trillion in Q4 2016 to $11.8 trillion in Q3, 2014). For reporting purposes, the IMF converts all currency balances into dollars.
Dollar-denominated assets among foreign exchange reserves rose 14% year-over-year in Q4 to $6.28 trillion, and are up 42% from Q4 2014. There is no indication that global central banks have lost interest in the dollar; on the contrary: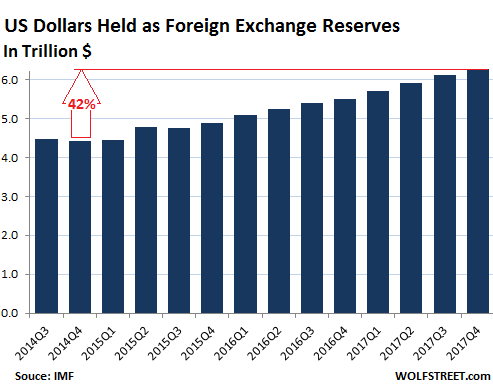 Over the decades, there have been some efforts to topple the dollar's hegemony as a global reserve currency, which it has maintained since World War II. The creation of the euro was the most successful such effort. Back in the day, the euro was supposed to reach "parity" with the dollar on the hegemony scale. And it edged up for a while until the euro debt crisis derailed those dreams.
And now there's the ballyhooed Chinese yuan. Effective October 1, 2016, the IMF added it to its currency basket, the Special Drawing Rights (SDR). This anointed the yuan as a global reserve currency.
…click on the above link to read the rest of the article…