Mopping up liquidity.
The Fed's QE Unwind – "balance sheet normalization," as it calls this – is accelerating toward cruising speed. The first 12 months of the QE unwind, which started in October 2017, are the ramp-up period – just like there was the "Taper" during the final 12 months of QE. The plan calls for shedding up to $420 billion in securities in 2018 and up to $600 billion a year in each of the following years until the balance sheet is sufficiently "normalized" – or until something big breaks.
Treasuries
In July, the QE Unwind accelerated sharply. According to the plan, the Fed was supposed to shed up to $24 billion in Treasury Securities in July, up from $18 billion a month in the prior three months. And? The Fed released its weekly balance sheet Thursday afternoon. Over the four weeks ending August 1, the balance of Treasury securities fell by $23.5 billion to $2,337 billion, the lowest since April 16, 2014. Since the beginning of the QE-Unwind, the Fed has shed $129 billion in Treasuries.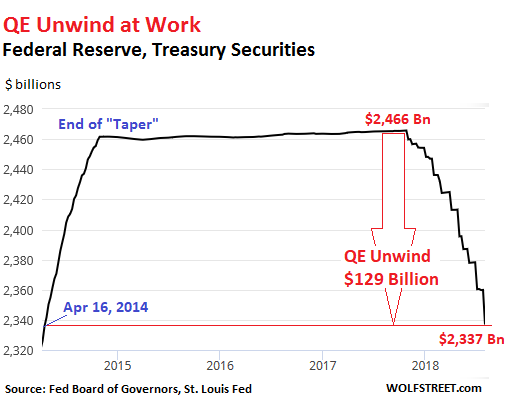 The step-pattern in the chart above is a result of how the Fed sheds Treasury securities. It doesn't sell them outright but allows them to "roll off" when they mature. Treasuries only mature mid-month or at the end of the month. Hence the stair-steps.
In mid-July, no Treasuries matured. But on July 31, $28.4 billion matured. The Fed replaced about $4 billion of them with new Treasury securities directly via its arrangement with the Treasury Department that cuts out Walls Street (its "primary dealers") with which the Fed normally does business. Those $4 billion in securities, to use the jargon, were "rolled over." But it did not replace about $24 billion of maturing Treasuries. They "rolled off."
Mortgage-Backed Securities
…click on the above link to read the rest of the article…