As a flood of US debt washes over the globe, someone has to buy.
So far in this fiscal year, which just started on October 1, the US gross national debt – the total debt issued by the US government – has jumped by $138 billion in just 11 business days, fueled by a stupendous spending binge and big-fat tax cuts, to a breath-taking $21.654 trillion, after having jumped $1.27 trillion in fiscal 2018. And these are the good times!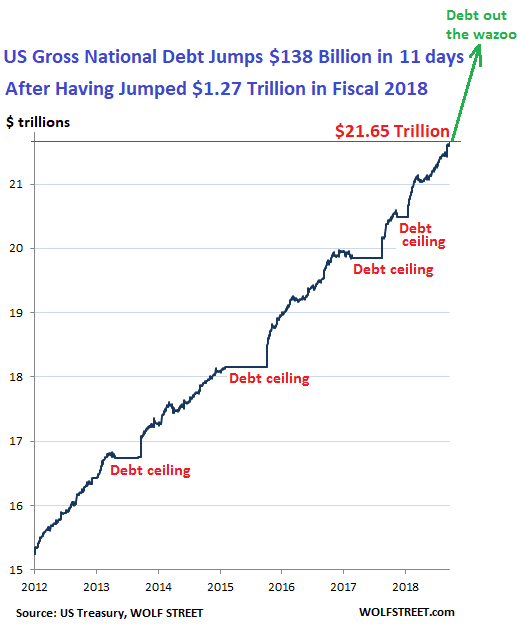 So who owns and buys all this debt? This is a critical question going forward, because the flood of new debt inundating the market is spectacular, and someone better buy it. Today we got another batch of answers from the US Treasury Department's TIC data on this increasingly edgy topic.
In August, foreign private-sector investors (banks, hedge funds, individuals, etc. outside the US) and "foreign official" investors (central banks, governments, etc.) owned $6.287 trillion of marketable Treasury securities. This was up $37.6 billion from August last year but was about flat going back to the beginning of 2016.
Over the same 12-month period through August 31, 2018, the US gross national debt jumped by $1.614 trillion. So who bought it?
The biggest foreign holders didn't buy; they shed.
China's holdings of Treasury securities have been inching down ever so gingerly with its holdings at the end of August at $1.165 trillion, down $37 billion from a year earlier.
Japan's holdings fell by $72 billion year-over-year to $1.03 trillion and are now down by $210 billion from the peak at the end of 2014: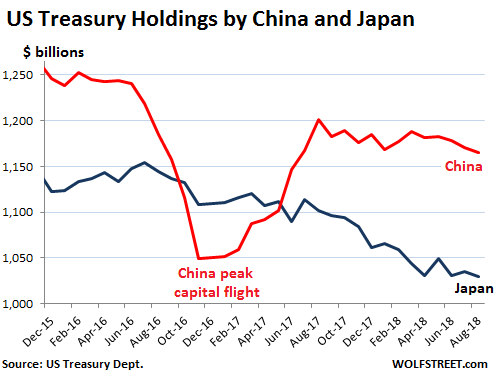 China and Japan are still by far the largest foreign creditors of the US. But their role is diminishing, based on two factors: the ballooning US debt, and their declining holdings of this debt.
…click on the above link to read the rest of the article…