Buckland is one of a number of projects in remote Alaskan villages that aim to replace expensive diesel with "cheap" solar. Here I examine how much diesel the Buckland array will actually save and how cheap the solar electricity that replaces it will be. The results show that Buckland's solar array will cut its annual diesel consumption by 3% at most and that any impacts on electricity rates will be imperceptible. If the array's capacity is expanded to the level where the impacts do become perceptible then electricity rates will probably increase because solar electricity will likely be more expensive than the diesel electricity it replaces. The rationale for the project is therefore questionable (Inset: Buckland Village, Credit NANA regional corporation).
The article on Buckland solar in Blowout Week 252 attracted some interest, so I thought a more detailed review of the project would be in order. As is usual in such cases a number of assumptions have had to be made to complete the review, so the numbers and graphs presented here should be regarded as approximate.
The Figure 1 Google Earth map shows the location of Buckland relative to:
Three nearby native villages. The monthly electricity consumption data from these villages were used to estimate monthly consumption at Buckland.
Fairbanks, the closest place with data from operating solar arrays. These data were used to estimate monthly solar generation at Buckland. Fairbanks is 630km east of Buckland but lies at about the same latitude (64° 50'N vs. 65° 58'N).
Anchorage, the state capital.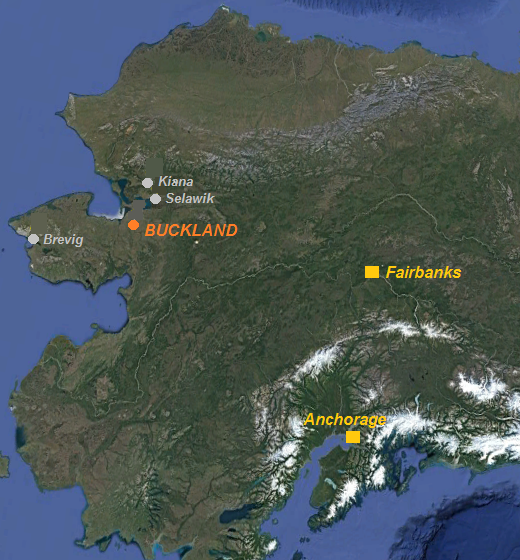 Figure 1: Buckland location map
The Buckland solar array:
No specifications or costs for the Buckland array have been published, so I have made the following assumptions:
…click on the above link to read the rest of the article…