Despite repeated speeches to the contrary.
As of September 30, total assets on the Bank of Japan's elephantine balance sheet dropped by ¥5.4 trillion ($33 billion) from a month earlier, to ¥537 trillion ($4.87 trillion). It was the fourth month-over-month decline in a series that started in December. This chart shows the month-to-month changes of the balance sheet. Despite all the volatility, the trend since mid-2016 is becoming clear: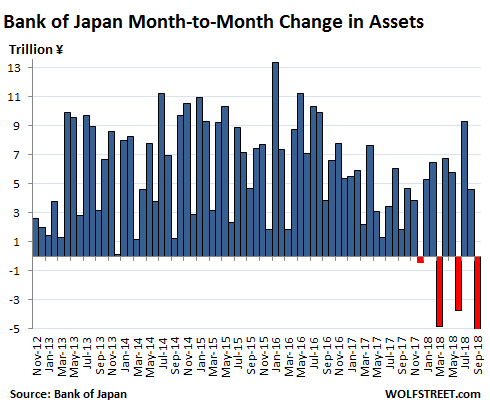 Abenomics became the economic religion of Japan in later 2012, and "QQE" (Qualitative and Quantitative Easing) was an integral part of it. So has the "QQE Unwind" commenced? Are central bankers, even at the Bank of Japan, getting cold feet about the consequences?
At BOJ policy meetings, concerns have been voiced over  the "sustainability" of the stimulus program, according to the minutes of the July meeting, released on September 25. So the BOJ staff "proposed measures to enhance the sustainability of the current monetary easing while taking into consideration, for example, their effects on financial markets."
And "flexibility" has been proposed as solution to those concerns.
The minutes reiterated that the BOJ would continue to buy Japanese Government Bonds (JGBs) in "a flexible manner" so that its holdings would increase by about ¥80 trillion a year.
But this is precisely what has not been happening, in line with this "flexibility." Over the past 12 months, the BOJ's holdings of JGBs rose by "only" ¥26.2 trillion – not ¥80 trillion. And they declined in September from the prior month (more in a moment).
Shortly after the minutes had been released, BOJ Governor Haruhiko Kuroda, once the most reckless among the money printers, changed his tune and said in a speech that, "in continuing with powerful monetary easing, we now need to consider both its positive effects and side-effects in a balanced manner."
…click on the above link to read the rest of the article…