The "up to" begins to matter for the first time.
The Fed released its weekly balance sheet Thursday afternoon. Over the four-week period from September 6 through October 3, total assets on the Fed's balance sheet dropped by $34 billion. This brought the decline since October 2017, when the QE unwind began, to $285 billion. At $4,175 billion, total assets are now at the lowest level since March 5, 2014: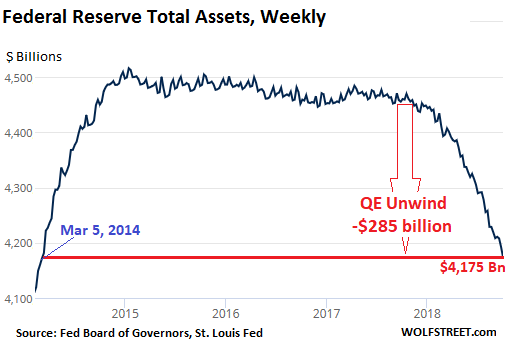 During QE, the Fed bought Treasury securities and mortgage-backed securities (MBS). During the "balance sheet normalization," the Fed is shedding those securities. But the balance sheet also reflects the Fed's other activities, and so the amount of its total assets is higher than the combined amount of Treasury securities and MBS it holds, and the changes in total assets also reflect its other activities.
The QE unwind was still in ramp-up mode in September, according to the Fed's plan. For September, the Fed was scheduled to shed "up to" $24 billion in Treasuries and "up to" $16 billion in MBS.
From September 6 through October 3, the Fed's holdings of Treasury Securities fell by $19 billion to $2,294 billion, the lowest since March 5, 2014. Since the beginning of the QE-Unwind, the Fed has shed $172 billion in Treasuries: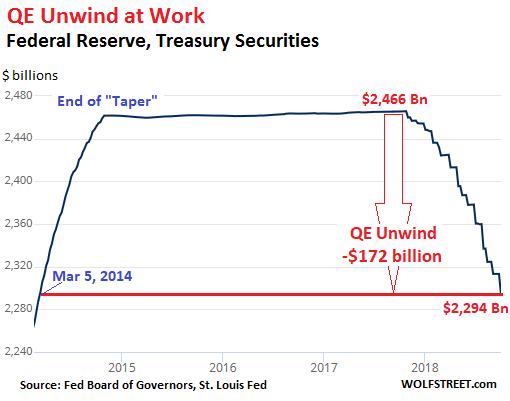 The "up to" begins to matter
Though the plan calls for shedding "up to" $24 billion in Treasury securities in September, the Fed shed only $19 billion. Here's what happened – and why this will happen more often going forward:
When the Fed sheds Treasury securities, it doesn't sell them outright but allows them to "roll off" when they mature; Treasuries mature mid-month or at the end of the month. Hence, the step-pattern of the QE unwind in the chart above.
…click on the above link to read the rest of the article…