We have to dig a little bit into history to see the context of this remarkable tweet whereby we have to switch between events and later, delayed analysis with the benefit of hindsight.
10 years ago GW Bush visited Saudi Arabia: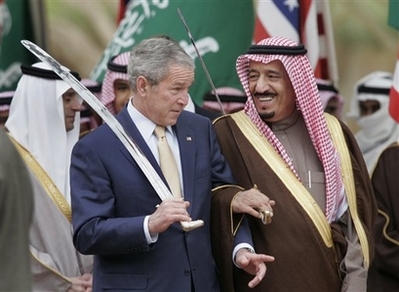 Fig 2: Sword dance in January 2008
https://www.huffingtonpost.com/bob-cesca/president-bush-shouldnt-p_b_81998.html
15 Jan 2008
"I will say to him [King Abdullah] that, 'If it's possible, your majesty, consider what high prices is doing to one of your largest customers,'" Bush said. "In other words, the worst thing that can happen to an oil-producing nation is that the price of oil causes the economy to slow down, because that will inevitably lead to fewer purchases [of oil]."
https://abcnews.go.com/Nightline/Politics/story?id=4136209&page=1
The above ABC News story includes a reference to an interview which co-anchor Terry Moran had with Bush who noted: "If they don't have a lot of additional oil to put on the market, it is hard to ask somebody to do something they may not be able to do."
The original video link is broken but the wording has been documented by Gail the Actuary (Atlanta, Georgia) in this Oildrum post.
Obviously, Bush had realized what was going on. 3 years earlier he had already tried it, when oil prices went through the $50 mark.
26 Apr 2005
CRAWFORD, Tex., April 25 – President Bush discussed the surge in oil prices with Crown Prince Abdullah of Saudi Arabia on Monday, but focused on a plan by the Saudis to increase their oil-pumping capacity over the next decade rather than on any short-term efforts to bring prices down.
Saudi Arabia's plan, which it began discussing publicly weeks ago, calls for spending up to $50 billion to increase its maximum sustainable production capacity to 12.5 million barrels a day by 2009, and to 15 million in the subsequent decade, from about 10.8 million barrels now. The Saudis are currently pumping about 9.5 million barrels a day.
https://www.nytimes.com/2005/04/26/world/middleeast/bush-and-saudi-prince-discuss-high-oil-prices-in-ranch.html
This was the plan:
…click on the above link to read the rest of the article…