Everything is spiking, setting off "inflationary concerns."
When consumer products companies, retailers, oil-and-gas drillers, manufacturers, and other companies complain that shipping goods within the US is confronting them with soaring costs, capacity constraints, and delays, they're not making this up. Trucking companies and railroads – an infamously cyclical industry that suffered through the "transportation recession" from 2015 through much of 2016 – are jacking up their prices with gusto.
The total amount that shippers spent on freight by truck, rail, barge, and air is skyrocketing, according to the Cass Freight Expenditure Index, which tracks the amounts spent by shippers on all modes of transportation. This spending is a function of price and volume. In May, soaring prices and shipping volume pushed spending up by 17.3% compared to a year ago, the 8th double-digit year-over-year increase in a row: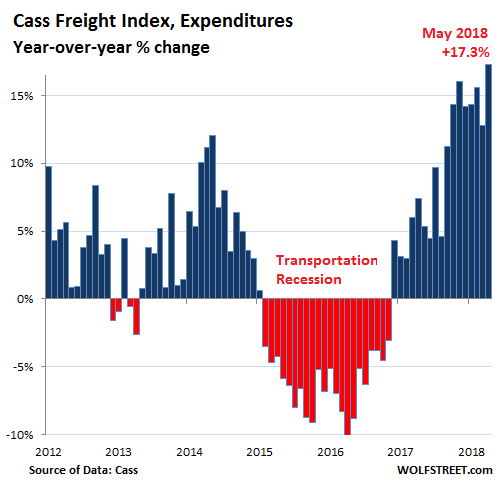 "May's 17.3% increase clearly signals that capacity is tight, demand is strong, and shippers are willing to pay up for services to get goods delivered in all major modes throughout the transportation industry," the Cass report said.
And the rising price of fuel and the related fuel surcharges added to the amounts spent: the price of diesel was up 27% at the end of May from a year ago.
The Cass Truckload Linehaul Index, which tracks per-mile full-truckload pricing but does not include fuel or fuel surcharges and is not impacted by rising diesel prices, jumped 9.0% in May compared to a year ago, the largest year-over-year increase in the data going back to 2005. And "the strength is continuing to accelerate," Cass said in its Linehaul report: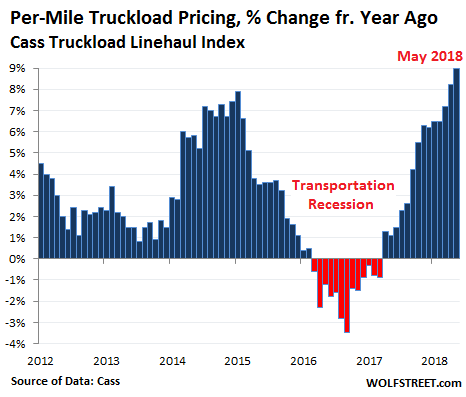 …click on the above link to read the rest of the article…