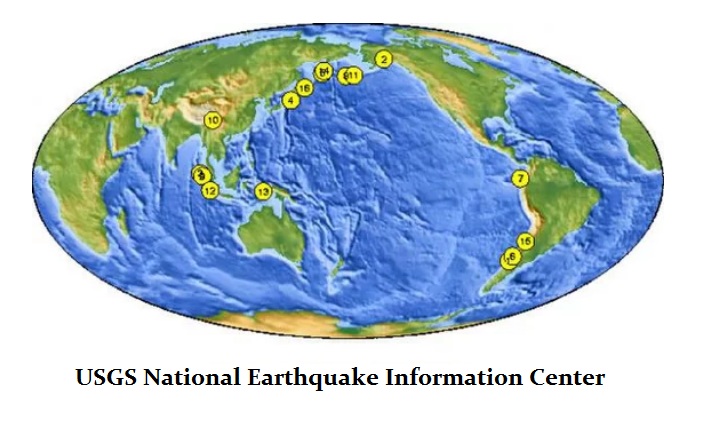 QUESTION:  Hey Marty,
Thanks for all your insight the last few years on what the models are projecting for volcanic & seismic activity. As usual, you're on the money. The forecast of events laying out to 2032 is really starting to add up in their interconnectivity. God help us all.
My question is regarding the mid-Atlantic ridge and the US East Coast continental shelf faults. We all know you chose Tampa over the Florida Atlantic Coast; should we be concerned about tsunamis & seismic activity along the eastern seaboard?
As always, thanks for everything you do. You're my hero.
Cheers,
DP
ANSWER: That is actually a very good question. The 10 Biggest Earthquakes in History have ALLtaken place around the Pacific Rim of Fire – not in the Atlantic. Ideally, the next big one is interestingly due in 2021. The modern big quakes around the Pacific Rim have been:
1906 — San Francisco, California, Magnitude: 8. About 3,000 people died from the earthquake, on the San Andreas Fault, and resulting fire.
1923 — Tokyo, Japan, Magnitude: 7.9. One of the world's most destructive earthquakes, more than 142,000 people died from collapsing buildings and the resulting firestorm. The quake also resulted in enormous tsunami waves.
1960 — Chile, Magnitude: 9.5. The largest earthquake ever recorded, the 1960 quake in Chile killed more than 1,600 people, with many of the deaths resulting from tsunamis. Waves reached 38 feet (11.5 meters) and carried debris as far as 2 miles (3.2 kilometers) inland.
1970 — Peru, Magnitude: 7.9. Approximately 66,000 people died, many from collapsed buildings and a post-earthquake avalanche.
2004 — Indonesia, Magnitude: 9.1. The third largest earthquake in the world in this century, the quake killed more than 227,000 people. Powerful tsunami waves crisscrossed the Indian Ocean and ravaged 12 Asian countries.
2011 — Japan, Magnitude: 9.0
…click on the above link to read the rest of the article…