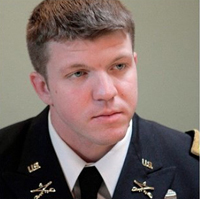 There's nothing military men like more than obsessively training for wars they will never have to fight. The trick is not to stumble into a conflict that no one will win.
Let's everyone take a breath. Yes, China presents a potential threat to American interests in the economic, cyber, and naval realms. The U.S. must maintain a credible defensive and expeditionary posture and be prepared for a worst case scenario. What we don't need is to blunder into a regional, or, worse still, all-out war with the Chinese dragon. Not now, probably not ever.
And yet, in Washington today, and within the Trump administration in particular, alarmism seems the name of the game. This is risky, and, ultimately, dangerous. In his 2018 National Defense Strategy, Secretary of Defense Mattis, a known hawk, refers to Russia and China as "revisionist powers," and announces that the US military must now pivot to "great power" competition. Look, I'm all for extricating our overstretched armed forces from the Middle East and de-escalating the never-ending, counterproductive "war on terror." What doesn't make sense, is the reflexive assumption that (maybe) dialing down one war, must translate into ramping up for other, more perilous, wars with nuclear-armed powerhouses like Russia or China.
The usual laundry list of Chinese threats is well-known: China is (how dare they!) building a sizable blue-water navy and (gasp!) patrolling around sandy islands in the South China Sea. They conduct cyber-attacks (so do we) and steal intellectual property. They are planning a new "Silk Road" to integrate much of Eurasia into a China-centric trade and transportation system. No doubt, some of those items may be cause for measured concern, but none of the listed "infractions" warrants war!
…click on the above link to read the rest of the article…