Oil prices have continued their climb following a week of bullish news, and with geopolitical tensions reaching a boiling point, prices are poised to head even higher.
(Click to enlarge)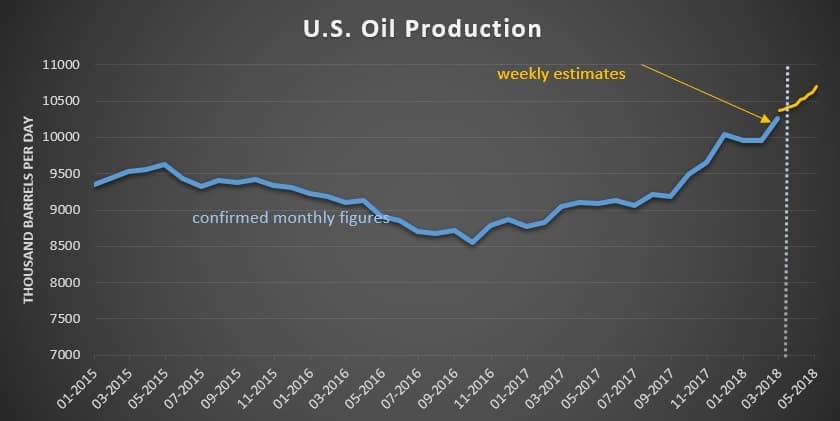 (Click to enlarge)
(Click to enlarge)
(Click to enlarge)
(Click to enlarge)
(Click to enlarge)
Friday, May 11, 2018
Iran continues to dominate the headlines, keeping WTI above $71 per barrel and Brent at $77 per barrel as of early trading on Friday. The exchange of airstrikes between Iran and Israel is also adding to the tension. Meanwhile, aside from the huge increase in U.S. oil production, the EIA reported some bullish figures this week – a decline in both crude oil and gasoline inventories by more than expected.
OPEC sees Iranian outage as not immediate. Any loss of supply from Iran due to U.S. sanctions will take time, and OPEC won't rush to increase output in the interim, sources told Reuters. The steep losses from Venezuela combined with the potential disruption in Iran could force OPEC to adjust production levels earlier than it had expected. But because U.S. sanctions don't really take effect until November, OPEC is not scrambling just yet. "I think we have 180 days before any supply impact," an OPEC source said. They will meet in Vienna in a month to evaluate the current status of the oil market and the production limits.
Short-term supply glut eases Iran fears. Although supply outages from Iran could severely tighten the oil market, Bloomberg reports that there is currently a bit of a supply glut, which should prevent a sudden price spike. Oil traders have reported unsold cargoes in north-west Europe, the Mediterranean, China and West Africa. The sudden emergence of a temporary glut is reflected in the Brent timespreads, with the July-August spread falling from 63 cents per barrel last month to just 24 cents per barrel this week, a five-month low. The narrowing of the spread is a "sure sign of an oversupplied market," Bloomberg reports.
…click on the above link to read the rest of the article…