Recent renewable energy auctions in a number of countries have been won by record low solar and wind bids – proof, according to some media sources, that wind and solar are already cheaper than fossil fuels. This post addresses the question of whether these low bids are realistic and concludes that they probably aren't. But a detailed assessment of why they aren't – and why wind and solar auction bids vary so much from country to country – is beyond the scope of a single blog post. Correspondents who can supply country-specific details on these questions are encouraged to provide them.
In recent years auctions have become the vehicle of choice for governments seeking to expand their renewable energy sectors. Instead of setting up generous subsidy schemes and leaving development up to the market, auctions allow governments to specify how much new renewable capacity they want, when they want it by, and in some cases even the time of day over which the power is to be delivered. Auctions, in short, allow governments to plan their transition to renewables in accordance with the targets they have set – always assuming, of course, that they are capable of developing plans that keep the lights on.
The auctions are also often described as being "capacity-neutral", meaning that bidders can bid coal- or gas- fired power if they want to. As a practical matter, however, wind and/or solar almost always win because of their zero fuel cost and because the costs of matching the intermittent generation from these sources to demand are ignored.
We begin with some historical perspective. Figure 1 shows average wind and solar bid prices between 2010 and 2016, before the most recent round of auctions (data from the International Renewable Energy Association (IRENA):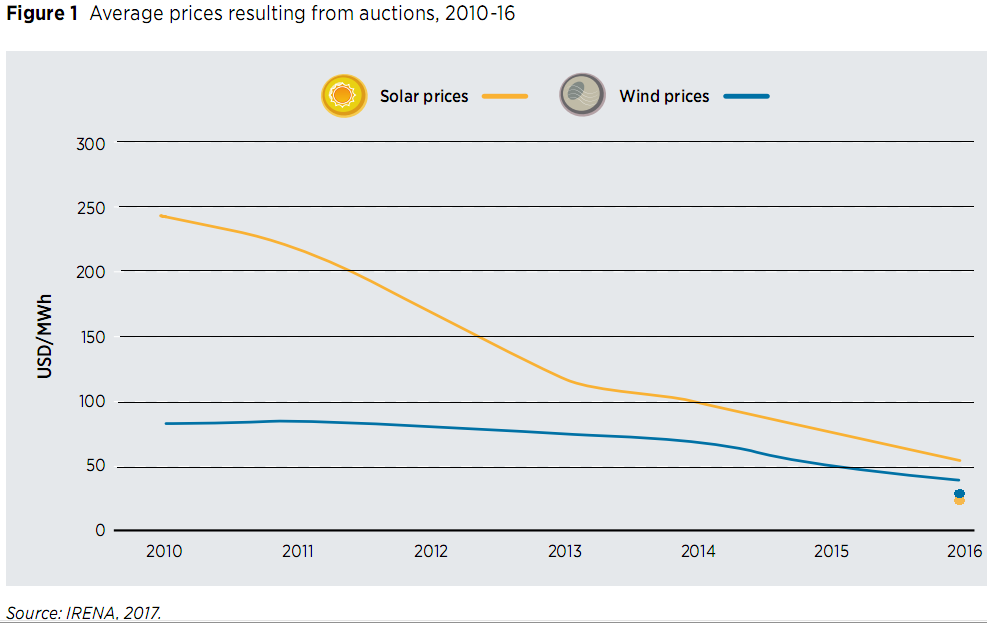 …click on the above link to read the rest of the article…