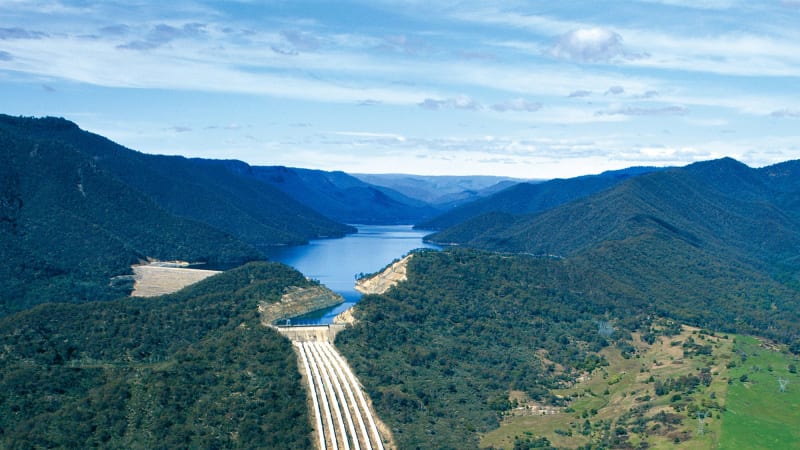 To support a 100% renewable electricity sector Australia will need approximately 10 terawatt-hours of long-term energy storage. The multi-billion-dollar Snowy 2.0 pumped hydro project will supply only 0.35 terawatt-hours, a small fraction of this, and conventional pumped hydro potential elsewhere in Australia, including Tasmania, will not fill the gap. This post addresses the question of whether Australia might not do better to pursue sea water pumped hydro instead of Snowy 2.0-type projects. Sea water pumped hydro potential in Australia is limited by the lack of suitable coastal topography, but there are sites capable of storing very large amounts of sea water at distances of more than 20km from the coast. The question is whether these sites can be developed and operated at acceptable cost.
First we must establish how much energy storage Australia will need to support all-renewables electricity mixes of the types envisioned by Blakers et al. I don't have the data necessary to make a firm estimate, but in this previous post I estimated that between 2.8 and 4 TWh would be needed over a three-month period, which as I noted at the time "will underestimate long-term storage requirements, quite possibly by a large amount." I have no way of knowing how much larger the amount might be, but 10 TWh (10,000 GWh) is a good round number, so in the absence of more definitive data I have used this as Australia's "target".
First, the Snowy 2.0 pumped hydro project. Details are available in the Snowy 2.0 feasibility study and are summarized thus in Snowy Hydro's summary web page:
Snowy 2.0 is a pumped-hydro expansion of the Snowy Scheme which will supercharge existing generation and large-scale storage capabilities. (It) will link the two existing reservoirs of Tantangara and Talbingo through underground tunnels and there will be an underground power station in between with pumping capabilities. (It) will increase generation capacity of up to 2000 megawatts, and at full capacity, about 350,000 megawatt hours (350 gigawatt hours) of energy storage.
…click on the above link to read the rest of the article…