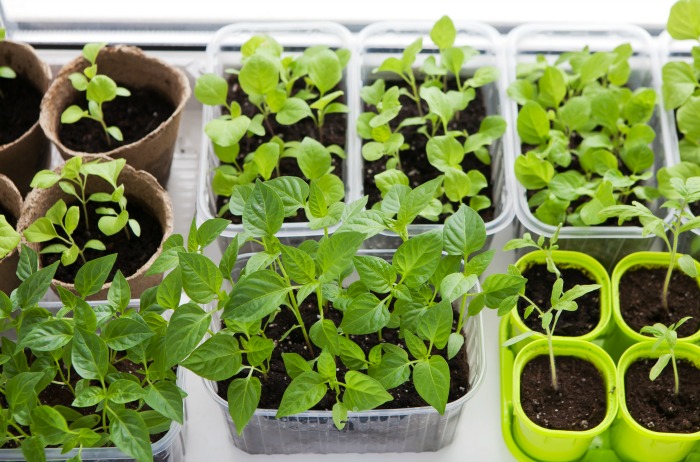 While the weather outside is still on the chilly side, many are making use of their time indoors and get a headstart on the upcoming gardening season by starting seeds indoors. Doing so results in earlier and longer harvests. This economic gardening method doesn't require special equipment – just some moist soil, comfortable temperatures, and some TLC!
Seeds need perfect growing conditions to grow healthy: water – allows the seed to swell up and the embryo to start growing, oxygen – so that energy can be released for germination, and warmth – germination improves as temperature rises.
Starting longer growing varieties like herbs, broccoli, cauliflower, and onions can greatly benefit from indoor growing methods. This gives the gardener a headstart and helps to control the growing environment.
A Step-By-Step Guide for Starting Seeds Indoors
Home gardeners can start vegetable and flower seedlings indoors between 4 to12 weeks before the last average spring frost in their area, which means it's time to get started! Above all, start with good seeds. At Ready Gardens, we prefer time-tested heirloom varieties. These plants have been shown to have outstanding flavor and good harvests. Heck, if these seeds were good enough for my grandparents, they're good enough for me. As well, you want to ensure that your seed starting mix has nutrients to feed young plants when they start growing their true leaves. Adding perlite and vermiculite can do wonders for emerging seedlings.
Fill a flat or other container with moist, sterile germination mix. Add enough mix to fill the container within an inch of the rim. Gently pat the soil down for even distribution.
Plant seeds according to their growing instructions. Some seeds can be planted in rows or scattered onto the soil's surface. Typically, seeds need to be planted at 1/2 inch below the soil surface and covered with soil.
…click on the above link to read the rest of the article…