It has been 100 years since the Spanish flu infected 500 million people around the globe and wiped out an estimated 20 million to 50 million of them. (source)
And here we are, potentially on the cusp of another influenza pandemic. H3N2, or the "Australian flu" is making the rounds this year and has spread to the UK, among other countries. This map from the UK Sun shows the spread – and the potential for a pandemic.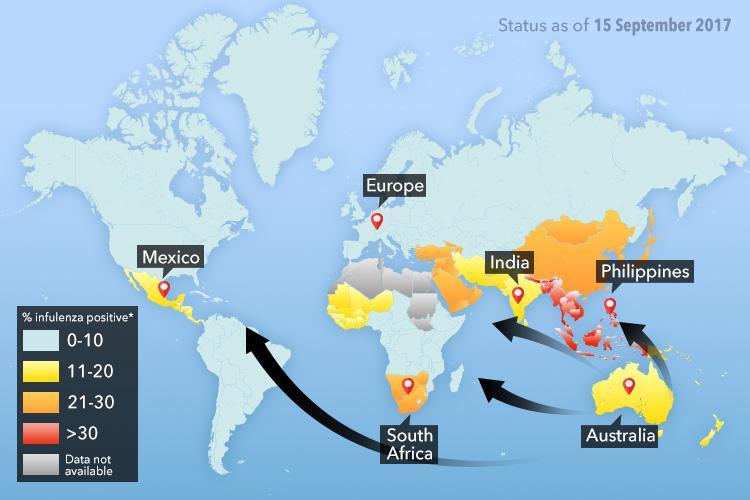 Save
This flu is particularly deadly. 745 people died from it in Australia in late 2017.
The NHS says that Australian flu symptoms have rapid onset:
a sudden fever – a temperature of 38C or above
aching body
feeling tired or exhausted
dry, chesty cough
a sore throat
a headache
difficulty sleeping
loss of appetite
diarrhea or tummy pain
nausea and being sick
The symptoms are similar for children, but they can also have ear pain and lethargy.
As well, the "Japanese Flu" and the "French Flu" are two other strains that are running rampant, although their symptoms aren't as severe as those of the Aussie H3N2. The Japanese Flu, also known as the Yamagata flu, is less serious but far more contagious. The French Flu is H1N1 and has been deadly for some sufferers.
The United States is having a bad year also.
Here in the US, an epidemic is rapidly becoming deadly and overwhelming hospitals.
18 people have died in Dallas, Texas from the flu and 27 have died in California. Hospital waiting rooms are jammed with flu victims, the doctors are running out of medication, ambulance services are strained and even IV bags are in short supply. Influenza is widespread in 36 states, according to the CDC.
Here's the CDC's map of the flu's spread throughout the US as of the last day of 2017.
…click on the above link to read the rest of the article…