Is the US about to become the world's largest oil producer? Our feature story says yes. To follow we have Trump's offshore leasing program; record Russian gas production; Saudi Arabia's gasoline price hike; Germany shuts down a nuclear reactor; Australia's industry to power down during heatwave; Coal growth in Asia; the Snowy hydro project a "write off"; UK releases plans for coal phase-out; North America's largest lithium battery; the wind (almost) always blows somewhere in Europe; fossil-fuel burning without the CO2; Scotland's plans to combat coastal erosion and the struggle to save chocolate from climate change extinction.
CNN Money: America could become oil king of the world in 2018
The United States is poised to ramp up crude oil production by 10% in 2018 to about 11 million barrels per day, according to research firm Rystad Energy.
Surging shale oil output should allow the United States to dethrone Russia and Saudi Arabia as the planet's leading crude oil producer, Rystad predicted in a recent report. The prediction shows how the fracking revolution has turned America into an energy powerhouse — a transformation that President Trump has vowed to accelerate by cutting regulation. This long-term shift has allowed the U.S. to be less reliant on foreign oil, including from the turbulent Middle East. The U.S. hasn't been the global leader, nor ahead of both Russia and Saudi Arabia, since 1975. "The market has completely changed due to the U.S. shale machine," said Nadia Martin Wiggen, Rystad's vice president of markets.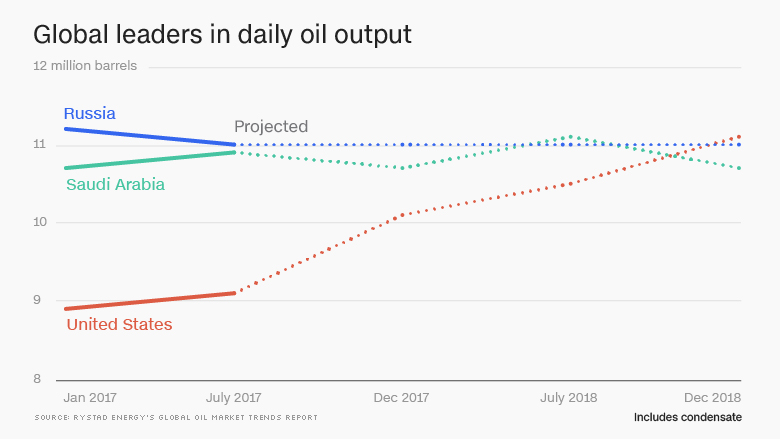 Reuters: U.S. oil rig count ends 2017 40 percent above year-ago levels
The U.S. oil rig count rose by about 42 percent by end-2017 compared to the corresponding period last year, as energy companies boosted spending amid a recovery in crude prices.
…click on the above link to read the rest of the article…