The U.S. rig count has been on the rise for months, despite some recent hiccups, but Canada's rig count recently plunged amid low oil prices.
Canada's rig count fell from 210 to 136 for the week ending on December 29, a massive drop off. That took the rig count to a six-month low. Obviously, the losses were concentrated in Alberta, where most of the rigs tend to be. Alberta's rig count sank from 162 to 118 in the last week of 2017. But Saskatchewan also saw its rig count decimated—falling from 43 in mid-December to just three at the close of the year.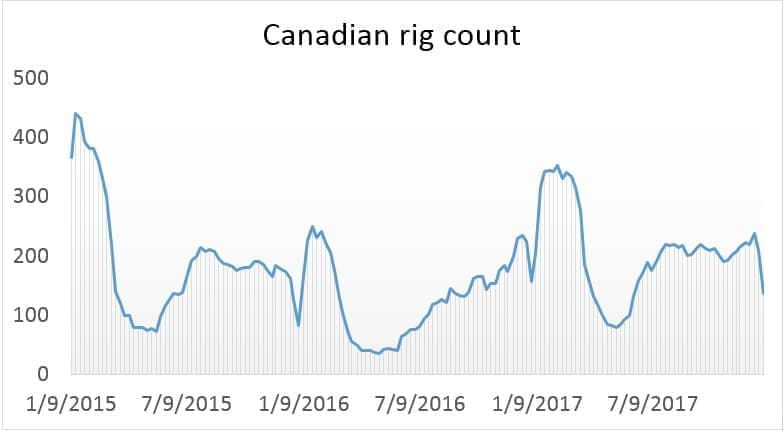 The losses can likely be chalked up to the meltdown in prices for Canadian oil. Western Canada Select (WCS), a benchmark that tracks heavy oil in Canada, often trades at a significant discount to oil prices in the United States. But the WCS-WTI discount became unusually large in November and December for a variety of reasons. The outage at the Keystone pipeline led to a rapid buildup in oil inventories in Canada, and storage hit a record high in December.
Also, Canada's oil industry has been unable to build new pipelines to get the landlocked oil from Alberta to market. Alberta oil producers are essentially hostage to their buyers in the U.S., and with oil production now bumping up against a ceiling in terms of pipeline capacity, the glut is starting to weigh on WCS prices.
In December, Enbridge announced that it will ration the space on its Mainline oil pipeline system for January as Canada's pipelines are essentially at full capacity. Enbridge said that it will apportion lines 4 and 67, which move heavy crude, by 36 percent. The term "apportionment" is a euphemism for rationing—essentially oil producers are unable to get all of their product onto the pipeline and are hit with restrictions. That means the oil has to be diverted into storage.
…click on the above link to read the rest of the article…