The Housing & Debt Bubble ascends to the next level of risk.
By Steve Saretsky, Vancouver, Canada, Vancity Condo Guide:
The HELOC (Home Equity Line of Credit) has been a blessing and a curse for Canadian households. While it has helped spur house prices and simultaneously provided consumers the ability to tap into their new found equity, it has also crippled many Canadian households into a debt trap that seems insurmountable.
Between 2000 and 2010, HELOC balances soared from $35 billion to $186 billion, according to the Financial Consumer Agency of Canada, an average annual growth rate of 20%. As of 2016, HELOC balances sit at $211 billion, a 500% increase since the year 2000. While also pushing Canadian household debt to incomes to record highs of 168%.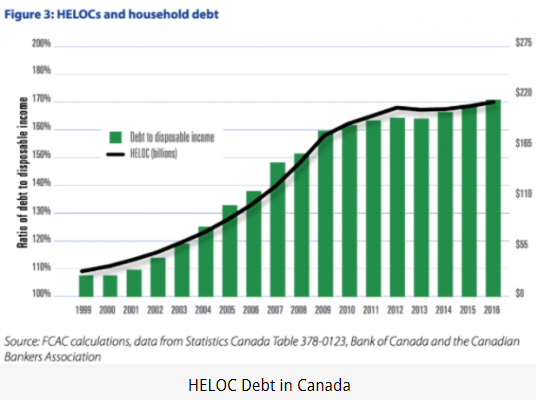 Scott Terrio, a debt consultant, says the situation is a full blown "extend and pretend," meaning borrowers are just continuously refinancing or taking on more and more debt in order to sustain their lifestyle. Canadians can extend their debt repayment terms and pretend to live a lifestyle they can't otherwise obtain.
What the HELOC has also been able to do is help spur the private lending space which has ultimately supported rising house prices. Seth Daniels of JKD Capital, one of the most astute Canada-Watchers, says there's a growing trend where "a homeowner acts as a sub-prime lender by drawing a HELOC at 3% interest only, and lends it to a subprime borrower at 8-12% for one year (interest only)."
This is something I've been hearing on an ongoing basis from mortgage brokers and lawyers who help facilitate these deals. Especially since mortgage lending conditions tightened, starting with OSFI's first mortgage stress test back in November, 2016. The financial regulator required "high-ratio" borrowers (those with less than 20% down payment) to qualify for a mortgage at the borrowing rate plus 2%. So basically you're getting qualified on what you can borrow at 5% even though you're borrowing at 3%.
…click on the above link to read the rest of the article…