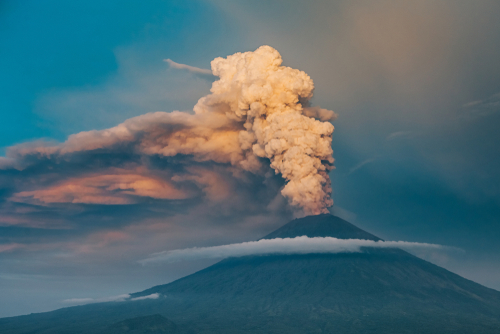 Eruption of volcano Agung in Bali
Over the past few decades, there have been several research papers in the scientific press that submit there is a correlation between cosmic-solar radiations and destructive geological events such as earthquakes and volcanic eruptions. On top of this, there are correlations with climate change that kick in where volcanoes throw up ash into the atmosphere which blocks the sun and that sets in motion the global cooling sending the earth back toward an Ice Age. Therefore, the entire process is extremely complex. Our computer can put out a forecast, but it is looking at everything and the dynamic complexity of all the interactions. This is why I do not put forth X happens because of Y. It is just more complex than such correlations.
Nonetheless, the strongest correlation between volcanoes and earthquakes remains that with the sun. In the last two and half centuries the following major volcanic eruptions occurred during strong solar minimum when the energy is at its greatest: Grimvotn (Iceland) 1783/84 (14 km3), Tambora (Indonesia) 1810 (150 km3), Krakatoa 1883 (5.0 km3), Santa Maria (Guatemala) 1902 (4.8 km3), Novarupta (Alaska) 1912 (3.4 km3). The only major eruption to occur during a solar maximum was Pinatabo (Philippines) 1991 (between 6 and 16 km3).
Additionally, research has concluded that there is an extremely high correlation between global volcanic activity among the largest of classes of eruptions and solar activity lows. Over 80% of these volcanic eruptions greater than VEI 5 and almost 88% of the extreme largest eruptions measuring VEI 6 or greater also taking place with solar minimums. There appears to be a strong correlation of volcanic eruptions coinciding with solar minimum. Pictured above, the Bali, Indonesian Agung volcano has been putting out smoke for several weeks. If this eruption unfolds as a VEI 6+ or VEI 7 as was Tambora back in 1815, this will accelerate the Global Cooling. That is going to be devastating for society and the global economy.
…click on the above link to read the rest of the article…