In the last week, the governor of the Bank of Mexico (or Banxico), Augustin Carstens, stepped down in order to take over the reins as general manager of the Bank for International Settlements in Basil, Switzerland, while Finance Minister José Antonio Meade, handed in his resignation to run as the presidential candidate for the governing PRI party in next year's general elections.
Despite the fact that the country's two most senior public financial officials have left their posts within days of one another, and though the Mexican stock index is down about 9% from July, the markets still seem pretty sanguine.
But that doesn't mean that problems are not stacking up.
Earlier this year Carstens felt compelled to postpone by five months his departure from Banxico, which was initially scheduled for May, in the hope that his continued presence would help steady investor nerves as well as tame inflation, which began soaring after the government's one-off hike in gas prices at the beginning of this year.
It didn't quite work out that way. Despite the Bank of Mexico's policy rate of 7%, consumer prices in Mexico hit a higher-than-expected annual rate of 6.6% in the first two weeks of November. "Obviously, the final photo of my mandate isn't the best," Mr Carstens told the FT.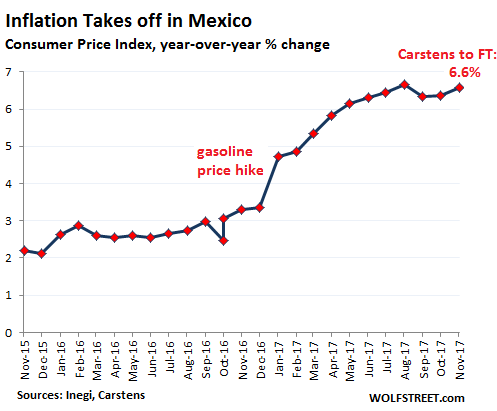 While inflation has surged, economic growth remains sluggish compared with many other countries, including Mexico's direct neighbor to the north. Banxico is forecasting growth this year of 1.8% to 2.3%. But even that may end up proving to be optimistic after it was revealed this week that third-quarter gross domestic product had shrunk by 0.3% compared with the previous quarter, as manufacturing declined more than expected. It was the first quarter-to-quarter GDP contraction since Q4 2015.
…click on the above link to read the rest of the article…