Campaigning to "Make America Great Again," Donald Trump swept to the presidency last November 8, buoyed by a wave of anger and sense of betrayal in the American heartland. He knew that, for many, the American Dream had receded inexorably beyond reach, lingering only in distant memories. Critically, American parents no longer expect what had been virtually guaranteed in the mid-20th century – that our children would be better off than we are.
It isn't just less-educated middle-aged White Americans who believe that American greatness will be restored by pushing back hard against the "other," including China, India, and immigrants who don't look like them. A much larger part of America seems open to the simple notion that what ails us is someone else's fault. This is because hardly anyone on the right or the left realizes just how fleeting the dominance of the West – and the U.S. in particular – has been in the longer sweep of human history.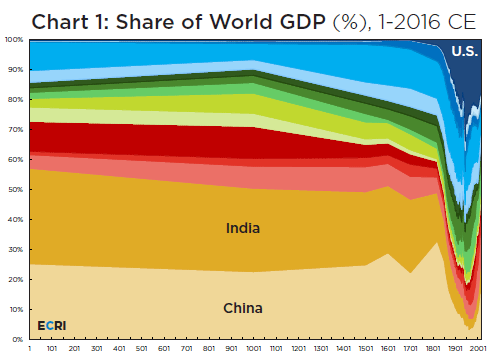 Few appreciate the uncomfortable fact that, while China and India have advanced rapidly in recent decades, even this is only a partial reversal back to the historical norm. A two-millennium perspective – derived primarily from the lifework of Angus Maddison – shows that, for more than 90% of the time, China and India dominated the world economy, together accounting for about half or more of global GDP in terms of real purchasing power (Chart 1).
In year 1, India's share was nearly a third of global GDP and China's was over a quarter – both bigger than the Roman Empire's. Rome had a huge trade deficit with China, whose silk was worth about its weight in gold.
…click on the above link to read the rest of the article…