Short-term trends for UK oil and gas production and, to a lesser extent, Norway can be rendered a bit meaningless by seasonal impacts from summer maintenance turn-arounds and cyclic gas demand. Overall, though, both are at or approaching the tail end of the production curve, but with slight upticks in the nearer term. Barring several large and unlikely new discoveries over the coming years the industry will continue winding down in both countries, with the UK ahead of Norway, and exploration and development leading operations and finally decommissioning. However some Norwegian gas production still has a multi-decade plateau to come and there are a couple of large oil projects due on-line in each country which will run for twenty to thirty years.
norway drilling and discoveries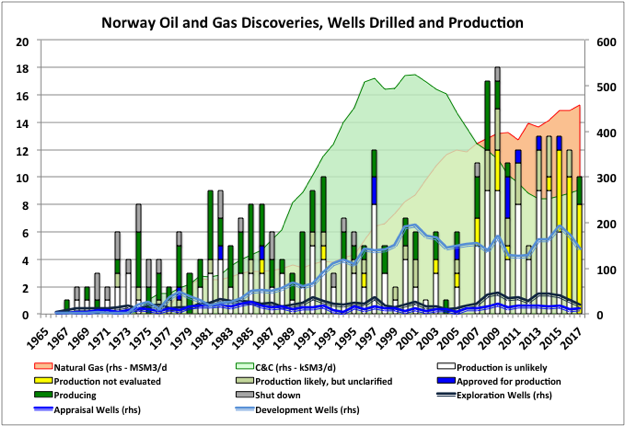 The usual patterns of exploration wells and discoveries following a bell curve that is matched by a later development curve (see below for the UK example and note that production is in cubic meters as it fits on a common axis better that way) is not seen so much in the Norwegian numbers. There are a number of reasons for this: 1) the wells and discoveries shown are for oil and gas and Norwegian gas development has been several years behind oil; 2) Norway really has three basins which have been explored somewhat sequentially – the North Sea, then the Norwegian Sea and then the Barents Sea; 3) the NPD includes as discoveries 'hydrocarbon shows' which will never be developed and skew the numbers, additionally in the chart the large number of 'not evaluated' finds in recent years will mostly become 'unlikely to be developed'; 5) in the past Norwegian governments has made efforts to spread development of the resources through approval and leasing timing; 6) I think there are tax breaks in Norway that encourage exploration drilling even at low oil prices and low discovery rates; and 7) the chart shows numbers of discoveries rather than size, which would show a much clearer bell curve.
…click on the above link to read the rest of the article…