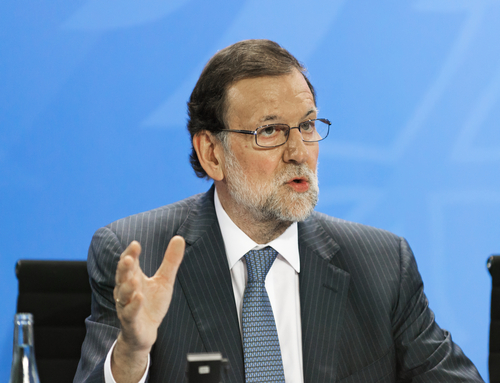 The Spanish Government is clearly fascist and cannot escape that stigma. The day before the appearance of Carles Puigdemont in front of the regional parliament of Catalonia, the Madrid government has come out and warned of serious bodily threats that one would expect only from a dictator – not an elected democratic government. Prime Minister Mariano Rajoy's spokesperson, Pablo Casado, came out and rejected all calls for any dialogue in Madrid with Catalonia. "We will not give in, and there is nothing to negotiate with the putschists," said Casado.
Casados boldly stated publicly: "Anyone who declares it (independence) will end up like the one who declared it 83 years ago." In Spanish history back in 1934, Lluís Companys i Jover (1882-1940) was the head of  Catalonia's government, which proclaimed itself as an independent state back then as well. He and the entire regional government were arrested after a few hours by the Spanish army. He was exiled to France in 1939 but would not leave because his son was seriously ill. In 1940, Companys was captured and was handed over by the Nazi Gestapo to the dictator Francisco Franco (1939-1975). He was executed in Barcelona at 6:30 a.m. on October 15, 1940 for seeking Catalonian Independence. Lluís  refused to wear a blindfold, and was taken before a firing squad of Civil Guards barefoot. When they fired, his last words were 'Per Catalunya!' (For Catalonia!). Keep in mind that people were imprisoned for even speaking Catalonia's language.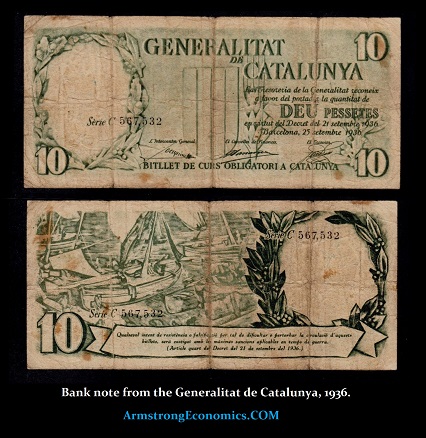 More than 90% of voters in Catalonia voted for a separation from Spain BECAUSE of Rajoy's dictatorial attitude. Here is a banknote from the last independence movement from our collection of the World Monetary System. The opponents of Independence, who had boycotted the vote by a majority, went to the streets of Barcelona on Sunday to protest against the separation.
…click on the above link to read the rest of the article…