"Financial Crisis Of Historic Proportions" Is "Bearing Down On Us"
John Mauldin of Mauldin Economics latest research note, Prepare for Turbulence, is excellent and a must read warning about the coming financial crisis. Mind refreshed from what sounds like a wonderful honeymoon and having had the time to read some books outside his "comfort zone" he has come to the conclusion that we are on the verge of  a "major financial crisis, if not later this year, then by the end of 2018 at the latest."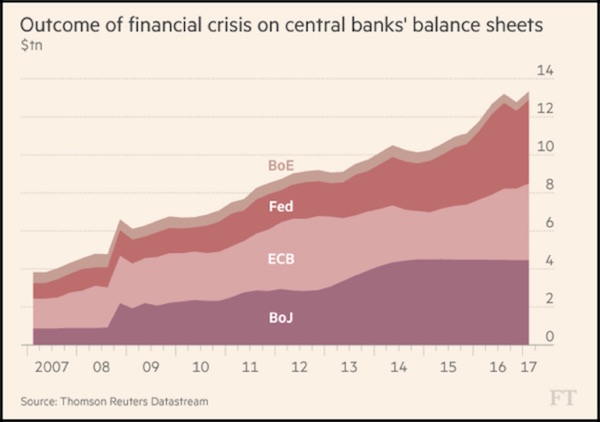 Source: Financial Times
Mauldin is a New York Times bestselling author and respected investment expert and his excellent analysis concludes with advice to prepare urgently for the financial "crisis of historic proportions" which is "once again bearing down on us":
"You and I can't control whether banks are ready, but we can control whether we are ready. I am working on a number of fronts to help you. My brief time away convinced me beyond any doubt that a crisis of historic proportions is once again bearing down on us. We may have little time to prepare. We definitely have no time to waste."
His financial crisis warning is important as Mauldin is no perma-bear. Indeed up until now his central thesis was that we were in the "muddle through economy" and that the U.S. economy and global economy would "muddle" along and we would avoid a financial crisis. So not only has he changed his central thesis but he has gone from being neutral and mildly positive to being very bearish and concerned about a severe financial crisis.
Mauldin is a long time advocate of owning physical gold including gold coins  as financial insurance – taking delivery and secure storage.
…click on the above link to read the rest of the article…