Federal Reserve data shows people are earning less than they did 17 years ago. But the real story is even worse than that.
The chart below shows that median income in the US is actually down over the last 17 years and is only 3% higher now than it was 30 years ago. Those are inflation-adjusted numbers.
But the reality is that, for the average person, inflation has been much higher than the average of 2% per year over that time. This is because the things that the average person actually buys—like housing and education and health care and all the other necessities of life—are rising at a much faster rate than 2%.
Source: FRED: St. Louis Federal Reserve
So this chart reflects the fact that life has gotten much more difficult for average Americans. If people's incomes haven't grown beyond what they were 30 years ago, they struggle just to make ends meet and to maintain the lifestyle they had.
Growth Is An Illusion For More Than Half Of Americans
The Census Bureau updates its income figures about once a year, and the last real update we had was last fall (taking us through 2015).
Doug Short did an analysis of those numbers. He breaks the country into quintiles, calculates the average household income for each quintile, and then also shows the top 5%. Notice that the average income for the top 5% is $350,000.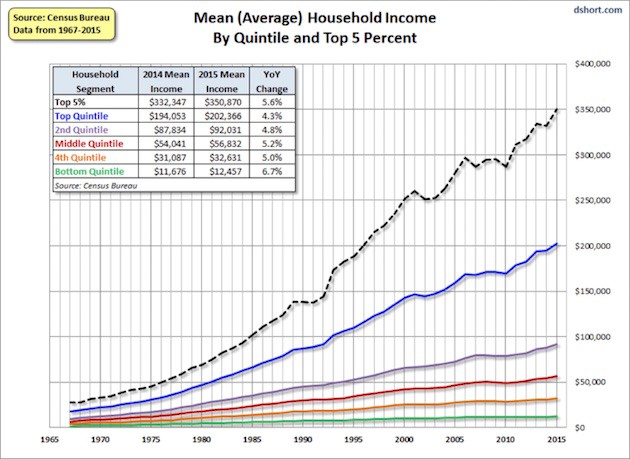 Source: Advisor Perspectives
It looks like everybody's income is rising, especially those in the top 20% and 5%. But if we inflation-adjust those numbers, the illusion of growth goes away.
…click on the above link to read the rest of the article…