Everyone is afraid of breaking the addiction.
Here's another data point on the Canadian housing bubble, how immense it really is, and how utterly crucial wild housing speculation has become to the Canadian economy.
Housing starts surged to 253,720 units in March seasonally adjusted, the highest since September 2007, according to Canada Mortgage & Housing Corp. Of them, 161,000 were multi-family starts of condos and rental units in urban areas. In Toronto, one of the hot beds of Canada's house price bubble, housing starts jumped by 16,600 units, all of them condos and apartments, defying any expectation of a slowdown.
Housing starts are an indication of construction activity, a powerful additive to the local economy with large secondary effects. Housing construction gets fired up by the promise of ever skyrocketing housing prices, and thus big payoffs for developers, lenders, real estate agents, and the entire industry.
National home price data covers up the real drama in certain cities, particularly Vancouver (British Columbia) and Toronto (Ontario), but it does show by how much Canadian housing prices have overshot the already lofty US housing prices.
The chart below by Stéfane Marion, Chief Economist at Economics and Strategy, National Bank of Canada, compares US home prices per the Case-Shiller 20-City index to Canadian home  prices per the Teranet-National Bank 26-market index. Both indices are based on similar methodologies of comparing pairs of sales of the same home over time. The shaded areas denote recessions in Canada. Note that during the housing crisis in the US, there was only a blip in Canada's housing market: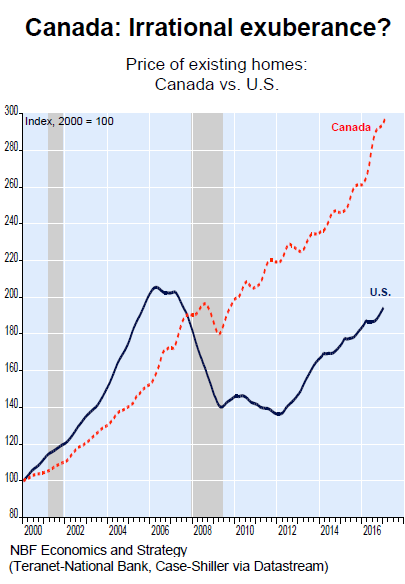 Marion added in his note today:
Home price inflation has become THE hot topic of discussion in Canada. Surging prices are no longer confined to greater Toronto and Vancouver. As today's Hot Chart shows, we estimate that close to 55% of regional markets in Canada are reporting price inflation of at least 10%.
…click on the above link to read the rest of the article…